Happy Monday my lovelies! I don't now about y'all, but I kicked this Monday off with a bang. Back to back clients starting at 5:30am followed by a 5 mile run at Memorial Park in 60 degree weather! Perfection! Now it's time to tell y'all all about my weekend and share a delicious pumpkin recipe before tackling the task of cleaning my house!
one. Snuggles with my puppies before cooking dinner with Michael and Chandra!
two. Workin' on my fitness Saturday morning post 4 mile run
three. My little girl helping me open birthday presents at my parents!
four. Deep Eddy Grapefruit Vodka. Love.
five. Poolside selfie. 90+ degrees in October
six. Seesters reunited!
seven. Playing bags against my man…P.S. Emily and I beat him and Char!
eight. Because we have a one good picture a day limit 🙂
nine. Happy birthday to me ice cream cake!!!
So clearly Saturday was a blast at my parents followed by a lazy, cool Sunday morning before heading home so I could teach step. Since the cool front blew in, I couldn't resist being outside for the rest of the day. After step, JP, Char and I went out to Little Woodrow's which is an outdoor sports bar to watch football and have a few drinks! Excellent end to our first low key weekend in over a month!
Now what you've all been waiting for! Okay, maybe not, but I hope you're excited. I introduce to you…
Pumpkin Spice Puppy Chow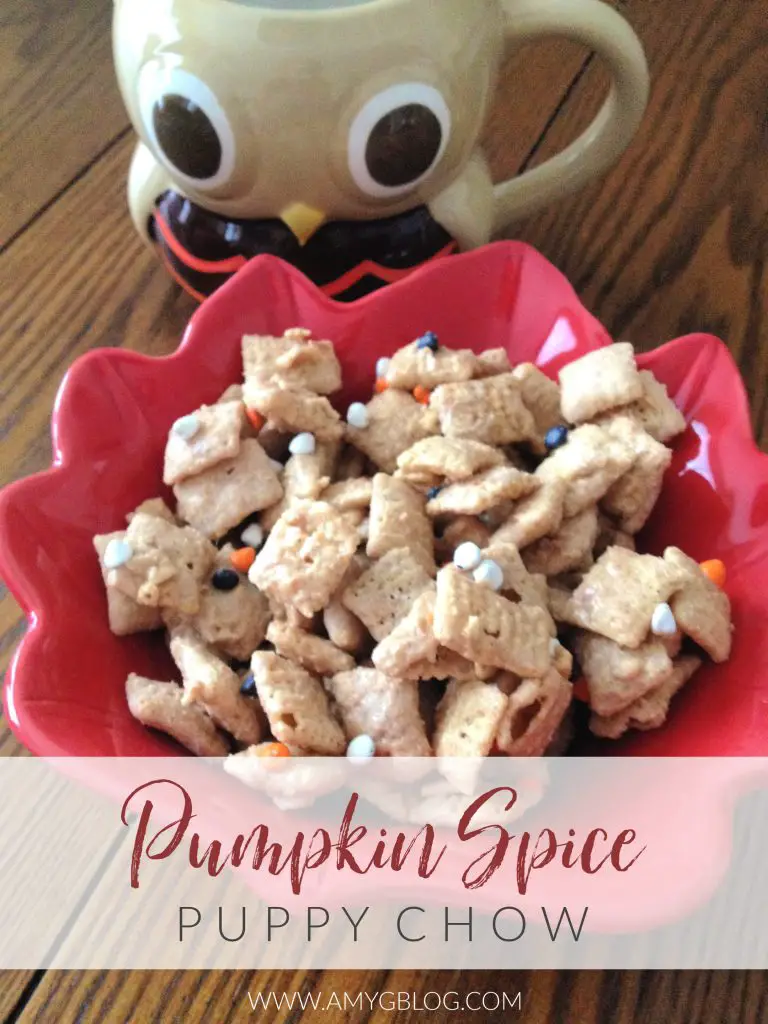 Ingredients
9 cups cinnamon Chex
1 bag (12 oz) white chocolate chips
1/2 cup Cookie Butter (I used Trader Joe's but Biscoff Spread is perfect!)
1 tsp Pumpkin pie spice
1 cup powder sugar
Directions
Melt white chocolate chips in a pot over the stove.
Add in cookie butter and pumpkin pie spice. Stir until completely melted and combined. Make sure not to let it over heat! Burnt chocolate is no fun friends!
Remove from heat and fold in cinnamon Chex until all Chex are coated.
Pour mixture into gallon size bag and add powdered sugar. Shake to coat. If you prefer more powdered sugar, feel free to add up to 2 1/2 cups. I just like mine with less 🙂
If you have any fun fall or Halloween sprinkles or candies add those as well!
Pour puppy chow into super cute fall dish and enjoy! And by enjoy, I mean eat it all on Friday night while cooking dinner with friends 🙂
Do y'all have a favorite puppy chow recipe? Share share!
What's your favorite way to spend a lazy weekend?