It's crazy to think that back to school is right around the corner! Summer went by so fast and so slow at the same time. In the Houston area, most school districts start within the next two weeks! Luckily, we still have one more year before Chloe hops on a big yellow bus and starts kindergarten. My momma heart isn't quite ready for that next big step, but I know we will be next year. In the meantime, we're busy preparing for preschool!
Chloe will be returning to her same school for the third year, but this year feels like the real deal. Maybe because it's her last year with these wonderful people we love and trust? We don't start until after Labor Day, so we're slowly getting back into the swing of things. I want our girl to be ready so she can thrive in her final year of preschool. Here's what we're doing to prepare for her return to preschool!
Preschool Prep Activity Sheets
I've been searching Pinterest and finding lots of free printables for Chloe to practice some skills that she's learned and others that she'll hone in on in preschool this year.
Here are a few of mine and Chloe's favorites. Check out the blogs they come from because they can also be a wealth of information!
This learning to write bundle focuses on tracing letters, penmanship and learning to associate words with their image. This free bundle includes 6 different worksheets for your preschooler to learn! We love them!
She also has practice sheets for coloring with crayons, cutting and more that you can get to from the link above.
I couldn't choose just one from her free preschool collection, so here are a few that I really enjoyed for Chloe! Click the link or photo to see some other great options!
I loved that this one was back to school themed to get Chloe excited about school again! Plus there are 4 different activities in just this pdf.
These are just a few I like. You can find so many more on Pinterest to meet your toddler's specific needs!
Back to School Shopping
School Supplies & Necessities
Preparing for preschool requires some back to school shopping. I personally think that back to school shopping is fun for everyone. That means preschoolers too! Here is what I have on our back to school shopping list:
This back to school supply bundle can be purchased for less than $25 and delivered straight to your home, if you're not interested in heading out searching for supplies this year!
I also like to grab a couple activity books before school starts. Something that is super fun, but she can learn along the way. Last year I found a couple tracing letter books with other phonics activities at Dollar Tree. Cheap, educational and fun! I also love the wipe clean books for back to preschool that you can find online here!
Back to School Outfits
I have to admit that back to school clothing shopping has always been a favorite of mine! Preparing for preschool means that you need some cute new clothes too. Especially if you have a sassy girl like me! My favorite thing to do is find the perfect first day of school outfit and have Chloe also wear it on the last day of school. It really shows just how much she's grown!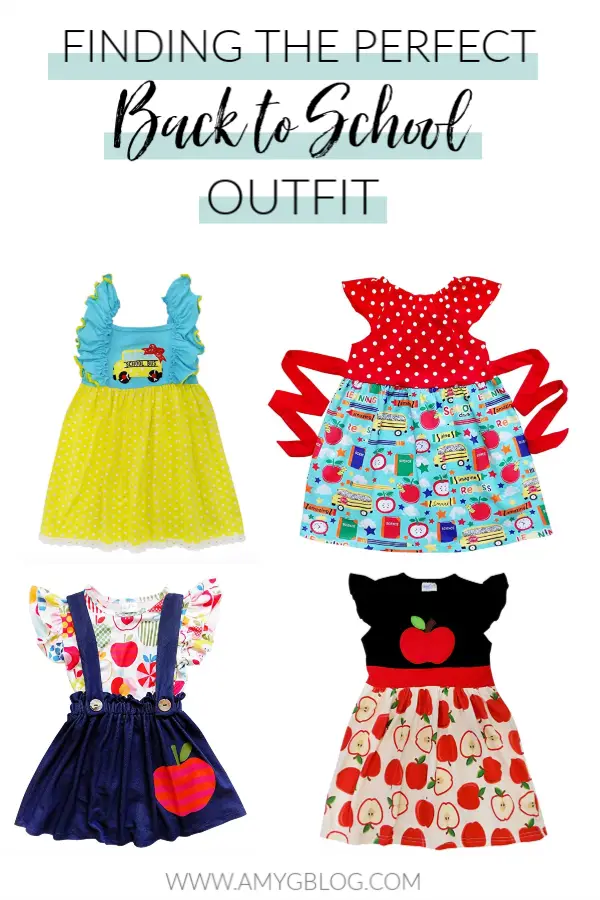 You can find TONS of adorable and affordable back to school themed dresses on Amazon. The yellow school bus dress above is so sweet! I also found some tunic and shorts/pants sets! The best part is that they're less than $25.
Don't forget that you can also peruse Etsy for some amazing custom pieces if you like to go the personalized route. This is what I bought for Chloe from one of my favorite Etsy shops, Sew Personalized by Jen!
Preparing for Preschool
What it all boils down to is this, I'm preparing Chloe for preschool by:
hyping up the back to school excitement.
doing more school focused activity sheets.
focusing on skills we haven't used much this summer like gluing and cutting.
letting Chloe choose her new backpack and lunch box.
shopping for brand new supplies.
finding back to school outfits that we both love.
talking about how great going back to school will be.
That first and last ones are important. Don't forget to talk up preschool with your toddler! It's important whether it's their first year or third year. After months of summer, they kind of forget what it's like, so make sure you bring it up. Remind them of the different things they'll get to do, the friends they'll make and fun they'll have! The more excited you are, the more excited they get and hopefully the easier the transition will be when the day comes.
What are you doing to prepare for preschool?
Anything we've missed?